Marli is a gifted speaker, author and musician with a unique style of communication.
A dynamic story teller, she uses everyday situations to describe the love, mercy and grace of God. Her foremost passion is to communicate God's eternal desire for an intimate relationship with His children.
Using humor, with a deep understanding of God's Word, Marli will inspire the ladies of your church to follow Jesus with radical obedience.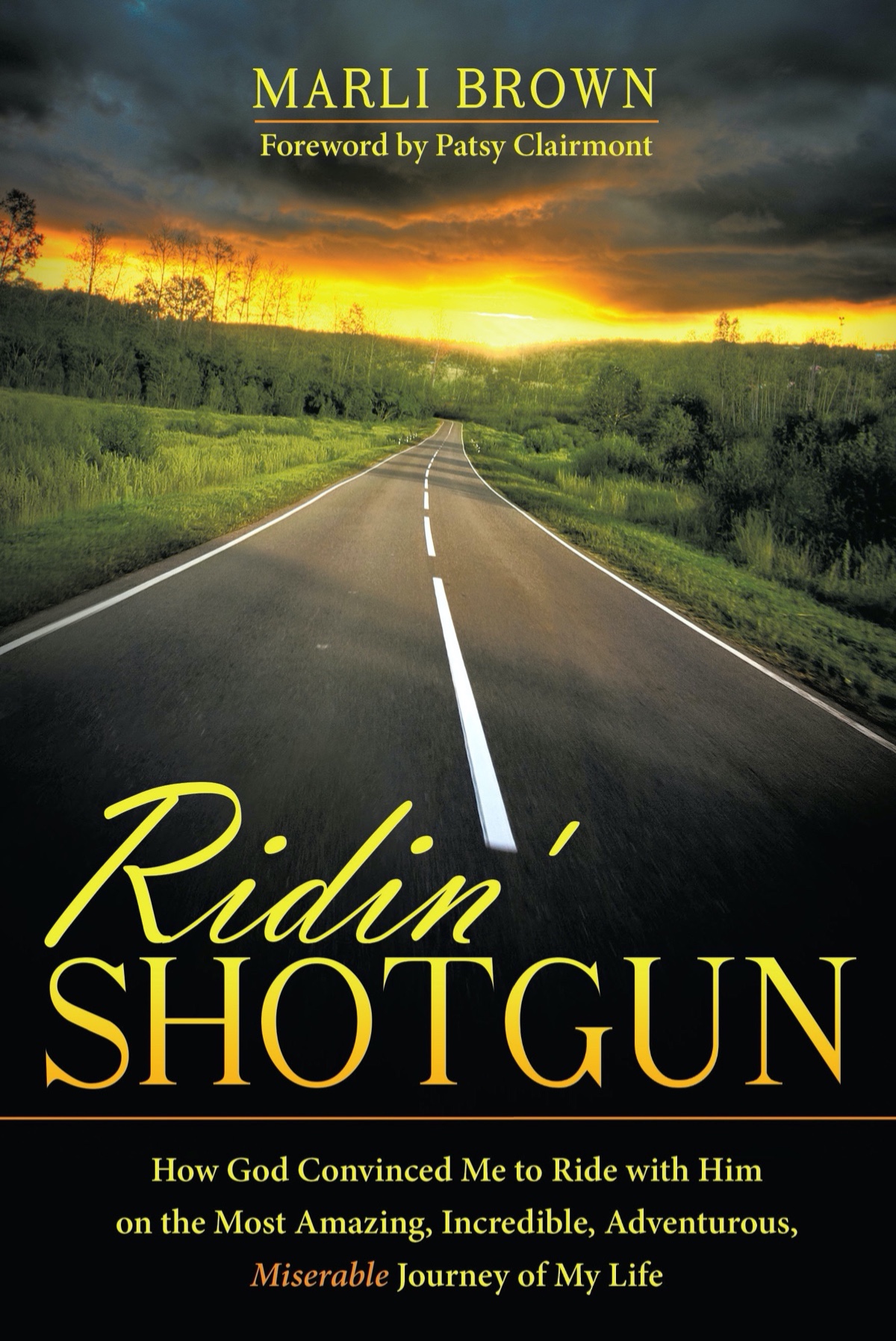 Ridin' Shotgun is a book that chronicles Marli's journey as her family spent eight years living in an RV. As they traveled throughout the United States ministering to congregations of many denominations, Marli learned about God's faithfulness, redemption, and companionship. Her unique perspective from the road highlights spiritual insights she gained as they traveled through forty-five states and numerous cultures. With honesty, she recounts situations when God challenged her to believe more, trust greater, and give beyond what she thought she could. Her casual writing style is wrought with heartfelt candor and humor as she recalls some of the most poignant moments she encountered while riding in the passenger seat, looking out the window. Marli's perspective is unique, personal, and authentic. Her readers can't help but be encouraged and challenged on their own faith journey.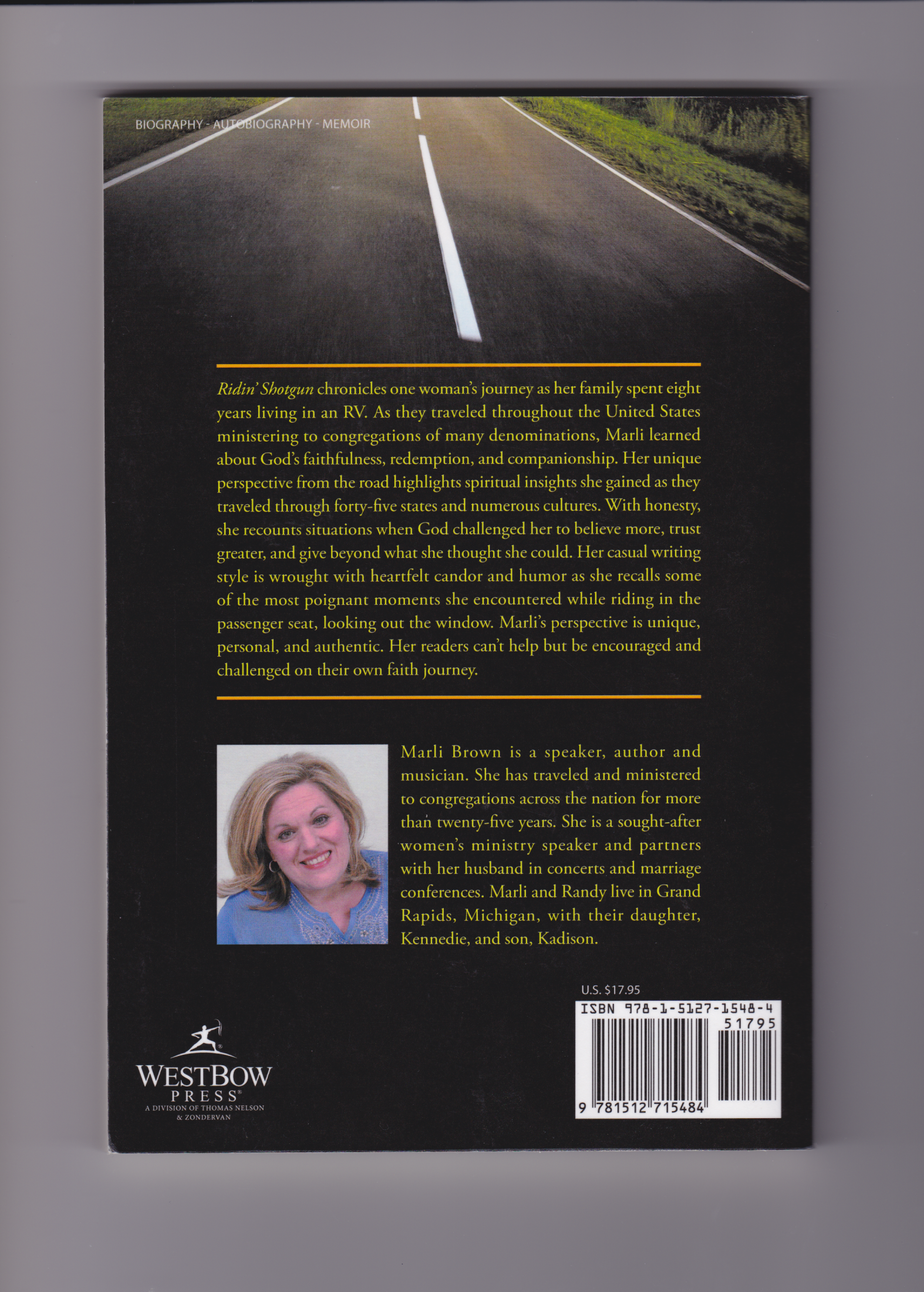 Ridin' Shotgun Book Reviews:
I thoroughly enjoyed this book over the weekend. It's by Marli Brown (speaker and worship ministry). I wanted to hold off and read it on vacation but once I started it I couldn't put it down. ❤ She shares stories from traveling with her family in an RV around the country for 8 yrs as they ministered to the local church. If you love a good God story, pick up this book today. I was inspired to risk more and trust God more as He leads me. - Tami
I've known Marli and Randy Brown for more than half my life. I remember when both of their kids were born, and I've attended their concerts too many times to count. I've always known them to be all-out servants of our Lord, and have witnessed (and experienced) the incredible work that God does in people's lives through their ministry. None of that prepared me, however, for the amazing stories that Marli tells in her book. Some of them humorous, some sad, some touching; but all evidence that God has specifically chosen to use this family in a remarkable way.
This book is well-written and easy to read; Marli's writing style is very conversational. But the best part of the whole book are the stories of experiences that they shared while living in an RV for 8 years and traveling the country ministering to others; experiences that can only be explained as acts of an amazing God! I found this book to be incredibly uplifting, and it encouraged me to examine my own faith along the way. I highly recommend it! - Brennan
Possible Events:
- Women's Retreats - Mother's Day Banquets - Christmas Tea's - Mother/ Daughter Events
Possible Seminar Topics:
​ - Taste and See (Psalm 34:8) - Security In Troubled Times - The Measure Of A Family - Becoming a Reflection Of God (4 Lies of Satan) - Picture Perfect - Made In His Image - What Do You Want From Him? (Matt 15:21-28) - Knowing God's Voice - Be All That You Can Be In Christ - Soaking In The Spirit (4 Elements of a Good Bath!)
Budget Consideration:
Duration Details * Suggested Donation ______________________________________________________________________
15-45 Minutes Without Sound System or Music $400
15-45 Minutes With Sound System & Music $550
1-Day Seminar With or Without Sound System, 1-4 hours $650
2-Day Seminar Without Sound System or Music, 2-4 Sessions $750
2-Day Seminar With Sound System & Music, 2-4 Sessions $1000
3-Day Seminar Involving a Sunday Morning $1500
* Travel and Hotel may be needed.